If you're looking to renovate your driveway, paths or open spaces you might be considering the differences between Tar & Chip and Resin Bound. There are a number of different factors to consider when installing a new surface, so here we will weigh up the benefits of Tar & Chip vs Resin Bound to help you make an informed decision.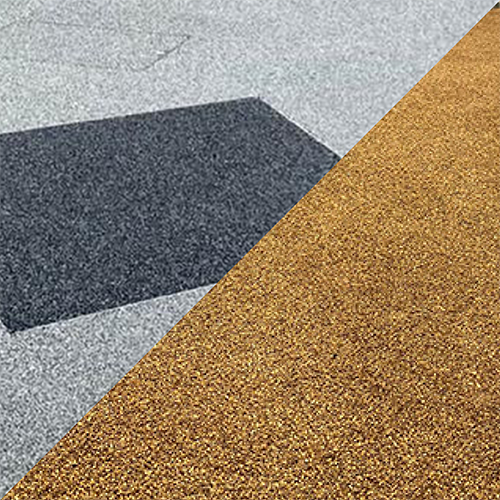 High Visual Impact
Tar & Chip looks similar to asphalt but uses a different installation process which includes adding stone aggregate to hot bitumen. Because of this, it is possible to customise your surface with a variety of colours, which creates a high visual impact.
Anti-Slip
Another benefit of Tar & Chip is that it is anti-slip and has very good traction – making it perfect for driveways, farm roads, and open spaces including car parks. It can even be used as part of a wheelchair ramp as the surface provides traction and stability
Hard Wearing
Due to the combination of asphalt and gravel, these surfaces are hard-wearing and can often last around 10-15 years depending on the level of use. We offer a 5-year guarantee with all of our Chip & Tar surfaces.
Colour Options
Like Tar & Chip, Resin Bound installations come with a variety of colours to choose from. But, with Resin Bound, there are an impressive 24 colour options available, including Slate Gray, Titanium, Cappuccino and Midnight Moon. It is possible to create wonderful patterns or shapes using a variety of colours to produce a striking entrance to your home. As our resins are UV resistant it also means that your surface will not change colour or fade over time.
The Surface is Porous
The bonus of a Resin Bound surface is that it is porous, meaning it allows for the natural filtering of water as it seeps through the sub-base and back into the ground. This helps to prevent puddles on your driveway and actively contributes to flooding prevention.
Other Notable Benefits
With Resin Bound being a totally seamless surface it is simple to clean and maintain, and perhaps most importantly, weed resistant! They can be easily cleaned with a pressure washer at a cool to moderate temperature, as long as the pressure isn't too high.
Learn more about Tar & Chip vs Resin Bound
If you're undecided about which surface is right for you, get in touch with our experts at Driveline Surfacing Ltd who will be able to provide you with an assessment and free no obligation quote.