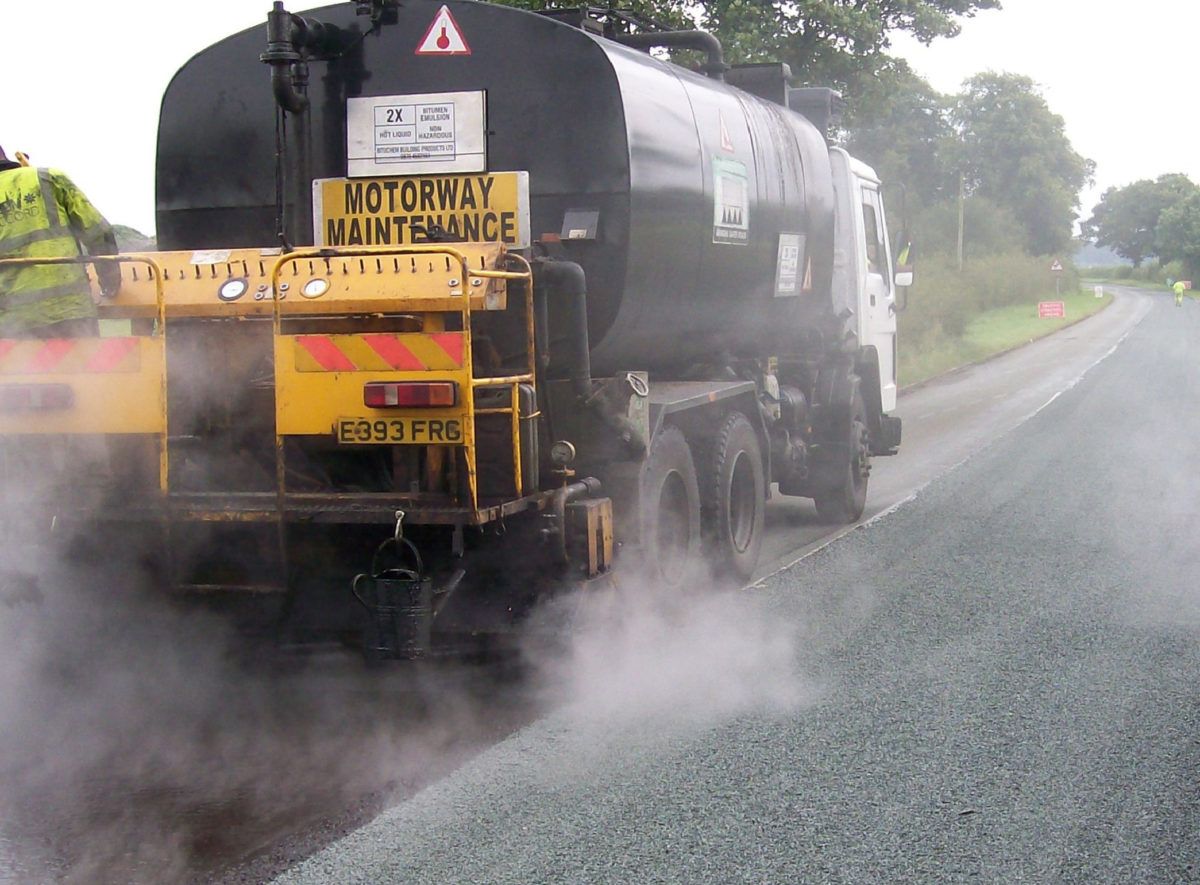 Regardless of how well a road is constructed, through use and weathering, it will begin to deteriorate. This is especially true of areas that receive a high volume of traffic such as driveways and main roads. Surface dressing provides a way of increasing the longevity of the surface as well as providing other benefits.
What is Surface Dressing?
Ultimately surface dressing is a cost-effective way of restoring road surfaces and sealing it all in one process. It is a form of applying a new layer of bitumen and aggregate on top of an existing surface. 
It is a preventative measure for roads and surfaces that are still in relatively good condition. More commonly known as chip seal or tar and stone, surfaces can be redressed multiple times using this method before more timely and costly resurfacing is needed.
How is Surface Dressing applied?
The pre-existing surface must be in relatively good condition and is prepped before application by filling potholes and imperfections as well as sweeping. The area is then sprayed with a bitumen layer where aggregate chippings are then pressed into the surface with rolling machines. More chippings than actually required are applied to the surface to ensure there is a uniform coating to the surface. Before use, the surface is swept to remove excess chippings before being reopened to road traffic. In high traffic areas it is common to place advisory speed limits of 15mph to ensure safety until the dressing has settled.
How long does Surface Dressing take to install?
Surface dressing is notoriously quick and easy to install. Although this does vary depending on the size of the area where the surface is being applied and the type of use, for example roads will require markings and road studs to be reapplied before use. 
What are the benefits of Surface Dressing?
Surface dressing can extend the life of your road or surface, improving not only its appearance but its functionality making it safer and more secure to drive over. There are many benefits to using surface dressing on your surface including:
Improved skid resistance

Helps to increase water proofing of the surface

Helps to protect against frost and water damage 

Redressing can occur multiple times before a surface needs to be replaced

Surface dressing is cost effective and quick to install reducing disruption for road users and homeowners
What areas can Surface Dressing be used for?
Surface dressing is suitable for a wide range of applications including roads, residential driveways, foot paths, car parks and shared drives. 
The quality of your existing surface will need to be looked at before installation. At Driveline Surfacing Ltd we look at the existing surface during our free site survey.
At Driveline Surfacing Ltd we offer a range of surfacing solutions including surface dressing. We pride ourselves on creating durable surfaces which have both practicality and longevity. To talk to us about your needs and your upcoming project please don't hesitate to get in touch by emailing info@drivelinesurfacingltd.co.uk, by phoning 01603 856966 or by completing the quote form.