Quality Driveway Installations In Suffolk
Driveline Surfacing Ltd can give you a perfect new surface for your patio, driveway or outdoor area, anywhere in Suffolk. Whether you are after the natural looking appearance of tar and chip, the low maintenance of a resin-bound surface or the low cost of tarmac, then our friendly team has the knowledge and experience to install you a safe and long lasting surface.
We know that the secret to a durable and high quality driveway is what happens beneath the surface. We don't cut corners, we will ensure that every surface has effective drainage, firm foundations and access to utility conduits.
Each project we carry out is unique and can be personalised as such. We offer a range of different aggregate colours, sizes and shapes that can be arranged in patterns to offer you a truly individual surface. We can also complement existing buildings and surfaces by adding container kerbs and decorative borders.
Our team is on hand to answer any questions and will talk you through the installation process. We carry out all works with as little disruption to both you and your neighbours and some of our surfaces can even be installed in as little as a day.
If you are unsure of what surface will be best for your area, then please don't hesitate to contact us, and we will happily answer any questions and advise you on the perfect solution for you. We can also carry out a free site survey and consultation to evaluate the need for drainage on your property or area.

Driveway Surfacing Options Available in Suffolk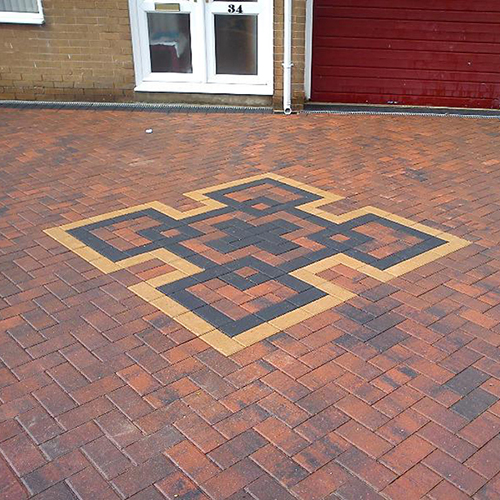 Block Paving
Is a great way to add a pattern and design into a surface space. More commonly known as brick weave, block paving surfaces can be customised through a variety of different sizes, colours and finishes. They are installed on firm foundations which allows significant weight bearing and improves their durability. Due to their structure, they are not permeable so do require adequate drainage to be installed with the surface. Block paving surfaces, create a safe, level, aesthetically pleasing surface for your outdoor area.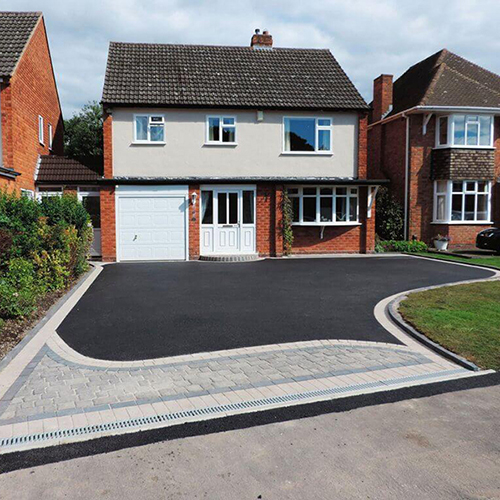 Tarmac
All of the surfaces we install using tarmac are made from SMA. We use this as it will provide your tarmac with protection from the weather and reduce wear and tear, resulting in a longer life span. Tarmac is predominantly used for areas like car parks and larger driveways, however it can also be installed on smaller residential properties and personalised using a variety of edging blocks and kerbs to add character and match existing features of your house.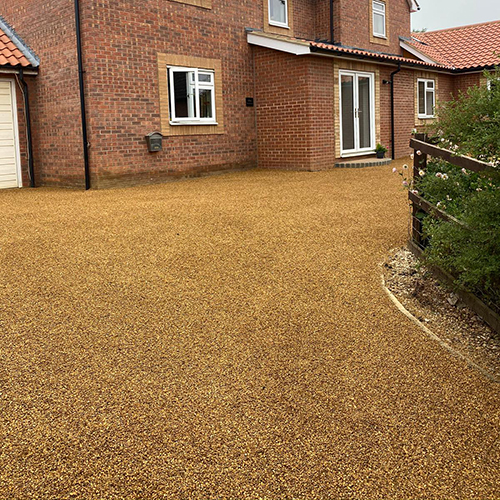 Tar and Chip
Tar and chip create a natural looking surface that provides more durability and safety than traditional loose stone driveways. They are created when a chosen aggregate is pressed into a bitumen layer. This results in a surface that requires little to no maintenance, and will suit the appearance of your property. As the bitumen layer is not permeable, tar and chip driveways do also require drainage to be installed, which we can do for you.
Resin Bound
Resin bound driveways are created when your chosen aggregate is mixed with BBA approved resin and applied to a prepared surface. They are becoming an increasingly popular choice as they do not require drainage as the surface is porous, and are very low maintenance, only requiring one powerwash a year to keep them looking their best.
About us – We are an East Anglia based company where our workmanship and customer referrals and constant reinvesting in up to date plant and machinery has gained us a great reputation in the surfacing industry. We have a wide customer base from private home owners, local building developers to customers in the agriculture industry.
What we do – We offer a wide range of surfacing methods to meet your needs specialising in tar and chip, resin bound surfacing, hand lay and machine lay tarmacadam and block paving.
5 star Trust a Trader Rating

local Suffolk based company
Get a quote
Get a free no obligation quote
Whether you are looking for new driveway, patio, path or surfacing for a large open space in Suffolk, Driveline Surfacing Ltd has the right solution for you. Get in touch today for your free no obligation quote and consultation.
Get a quote