Driveline Surfacing Ltd are leading installers of Tar and Chip, Tarmac, Resin Bound and Block Paving driveway and surfacing solutions in Lowestoft, Suffolk. Our team has vast experience and industry expertise to provide you with a high quality finished product.
High Quality Driveway Solutions In Lowestoft, Suffolk
If you're looking for the natural look of a tar and chip driveway or a low maintenance resin-bound path or patio, at Driveline Surfacing Ltd we can install a different range of surfaces which are durable and long lasting.
We offer a range of surfacing options, as well as different edging and kerbs, so that you can create a personalised surface that suits your property, personal choices and any existing surfaces to the exterior of your property.
We know that a high quality driveway is due to its foundations, and we make sure that below the surface there is efficient drainage, firm foundations and you have access to all utility conduits and manholes.
For any questions, please don't hesitate to get in touch and we will be happy to provide you with the answers and any additional information for the perfect solution for your property in Lowestoft.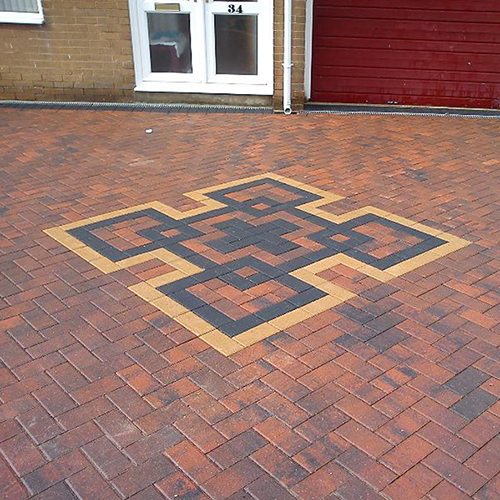 Block Paving
This unique and visually appealing surface option is built on firm foundations, allowing it to withstand significant amounts of weight over many years. Your safe, ergonomic and aesthetically pleasing driveway can be customised from a variety of block sizes, colour and finish from which you can choose. Due to the installation and materials, block paving surfaces are not permeable and do require a drainage system to be installed, which we can do for you.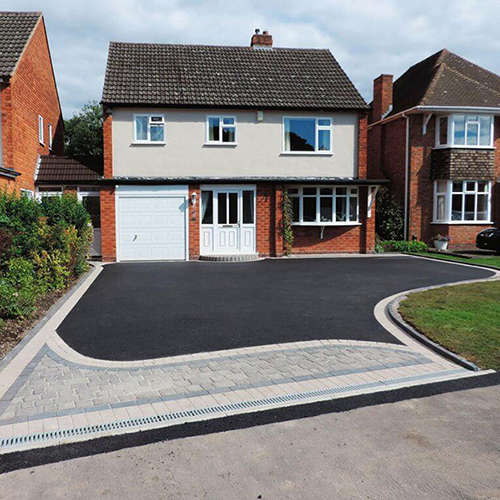 Tarmac
Tarmac is used primarily for larger areas such as car parks, large driveways and runways although can also be used for smaller residential properties. We use SMA tarmac to ensure your driveway has a maximum life span and protection from weather as well as general day to day wear and tear. If you would like additional personalisation options with your tarmac driveway we can also add a variety of edging blocks and kerbs.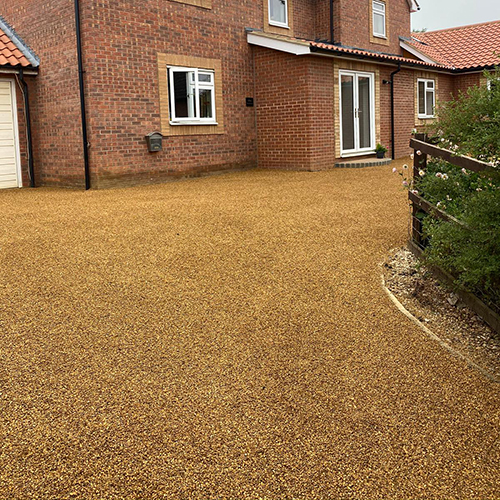 Tar and Chip
We create tar and chip surfaces by mixing bitumen with aggregate. This will leave you with a natural looking driveway, while remaining more durable and safer than loose stone. Due to their impermeable nature, we will install a drainage system alongside your driveway. This surfacing solution requires very little maintenance and is a perfect choice for those with less time on their hands.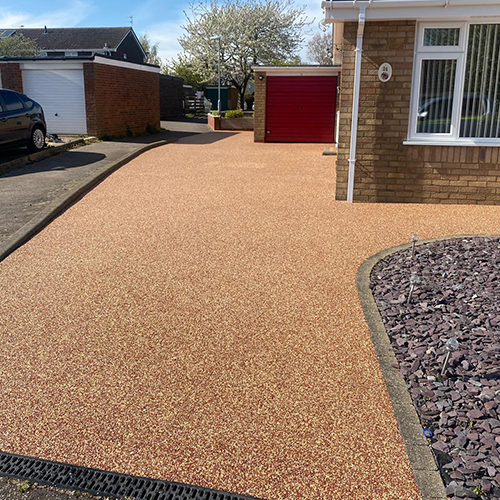 Resin Bound
A perfect choice for homeowners due to their structure, drainage and maintenance requirements. Resin bound surfaces are completely porous which allows surface water to drain away. Because they do not require a drainage system, this makes the installation process much faster. There are over 40 different aggregates to choose from, and the resin itself is UV resistant meaning the colour of the driveway will remain vibrant for years to come.
Get a quote
Get a free no obligation quote
Whether you are looking for new driveway, patio, path or surfacing for a large open space in the Suffolk area then Driveline Surfacing Ltd has the right solution for you. Get in touch today for your free no obligation quote and consultation.
Get a quote