Welcome to Driveline Surfacing, Suffolk
Whether maintaining a car park or renovating your garden, our team has the skills and equipment to offer a great variety of surfacing techniques for any setting, be it commercial, residential, or even agricultural. As one of Suffolks leading specialists, Driveline Surfacing Ltd Suffolk, can get the job done.
We have years of experience in resin driveways in Suffolk, all carried out with the precision and expertise for which we're known. Our experience includes modern resin driveways, resin patios and resin pathways and more.
We are happy to help advise on design and finish to achieve the resin driveway you have in mind, and our quotes are free with no obligation. We aim to complete installation within a single day, which isn't achievable with traditional block paving or other such techniques.
With more than 40 different natural aggregates, and a variety of colours and patterns to choose from, resin bound driveways allow you to create a completely bespoke outdoor area that is eye-catching and unique to your property.
Made up of natural aggregate and clear resin, mixed together and hand trowelled, resin bound surfaces don't feature any loose stone and the finish is precise. They make for a very low maintenance surface with great benefits, including being durable and strong, with anti-slip properties and an attractive finish.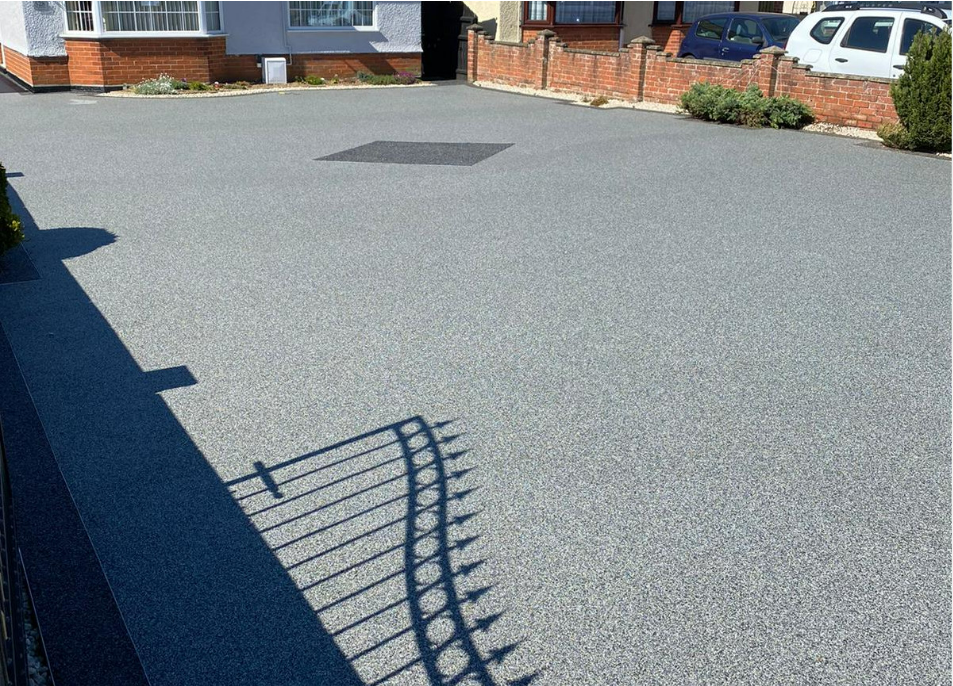 Installation of resin driveways, paths & patios
In terms of process, the first thing we would do for you is inspect and repair your existing surface where needed, before power-washing it, removing all the surface dirt and any moss build up, ahead of the transformation of your outdoor space. Bringing the surface up to this condition means that the resin will immediately form a strong bond. If we can't directly apply on top of your existing surface, we can cover the excavation and groundworks for you.
Another reason that resin bound driveways are so popular is their eco-friendly properties. As they are 100 percent porous, they are self-draining, which is a process that eliminates hazardous surface water. Resin surfacing can also be installed directly on top of almost any hard surface, including asphalt, tarmac, patio slabs, block paving and concrete, providing that their condition is good.
By leaving the existing surface in place, and opting for a resin overlay system, you will save on the costs associated with removing a hard-landscaped surface. So it's an economic option too.
When it comes to installation, the aggregate stone is hand-trowelled by one of our highly trained staff to form a strong and smooth finish. For the edging, we offer a number of options and can also advise on things such as manhole covers, which are not a problem. The edging isn't just reserved for the outside of your resin driveway, it can serve as a divide between any colours and patterns that you choose.
All that's needed to remove any bird droppings or mud is the odd light power-wash to keep your resin driveway looking as smart as the day we lay it. Where wet weather conditions and airborne seeds cause weeds to germinate on the top of the surface, weed killer is also fine to use up to twice a year. The only thing that we would strongly advise against is washing your car when it is parked on your resin bound driveway, as most car cleaning chemicals contain solvents that break down the resin hardener.
We specialise in tar and chip surfacing in Suffolk and we have carried out projects all over the county. From driveways to farm roads to car parks, we have transformed areas for our customers.
We are extremely proud of the service we provide and of our years of experience. On these foundations we have built our reputation, and both our professionalism and customer service have earnt us countless five-star reviews along the way.
Every single tar and chip surfacing project we undertake gets our full attention, because improving your home or business is the most important thing that we could do for you.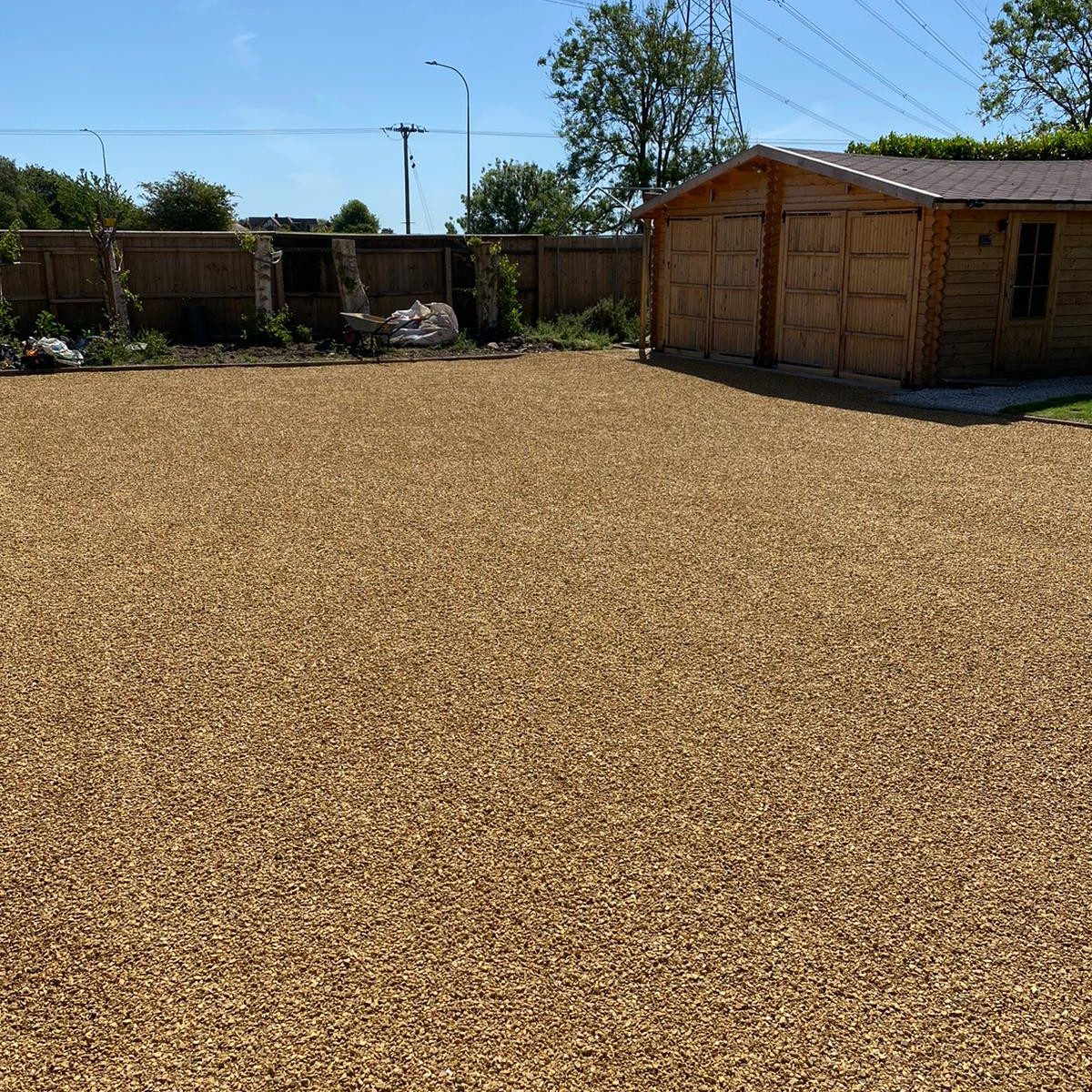 How we do surface dressing
To explain the process, firstly we prepare the surface ensuring no potholes or loose stones are visible, particularly working on areas where the existing surface has deteriorated over time. Then we cover the surface with an application of hot bitumen liquid tar, followed instantly with either the gold pea shingle – for that lovely natural look and country feel – or grey granite aggregate, which is a popular choice for commercial areas.
We are extremely thorough in our preparation and only use the highest quality tar. We know that, with this approach, your new surface will look great for years to come and we would be delighted to be the ones to install it for you here in Suffolk. From us you will get the most professional and efficient service throughout the job, as well as an end result of the best quality.
Tarmac is the most common used driveway and road surface due to its proven track of being hard wearing and longevity. Here at Driveline Surfacing Ltd we over see the full project from excavation to completion. We have a huge range of company owned equipment and machinery ensuring we get the job done on time and on budget. We offer free on site survey and quotations.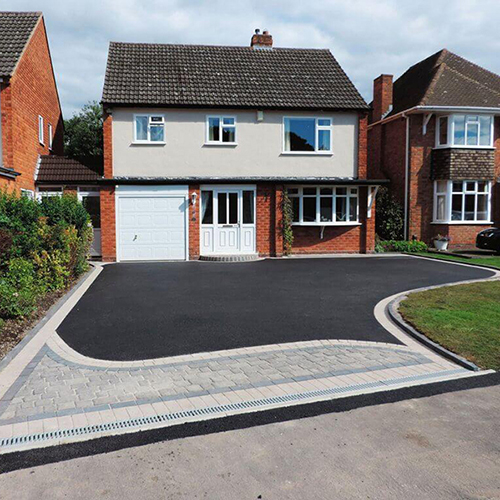 Tarmac with kerb appeal
All tarmac driveways are only as good as the foundations beneath, which is why all our tarmac driveways are either based with a 10mm open textured base, or on a minimum of 100mm type 1 mot hardcore. A vital decision you must make when opting for a tarmac surface is choosing a reputable contractor. Preparation work is the key ingredient to a long-lasting tarmac driveway, and we are so confident and proud in our work, that we also provide a 10-year guarantee on all tarmac surfacing installations.
We have been installing brick weave driveways in Suffolk for many years. Our team has plenty of experience in providing high quality block paving garden paths, patios and driveways.
It is often a favoured technique as it can be customised to your taste and to suit any existing buildings. Block paving is available in a wide variety of colours and patterns, giving your property instant kerb appeal.
Across Suffolk, our team has become renowned for their installations and have gained a great reputation and a portfolio of satisfied customers, why not take a look at our before and afters?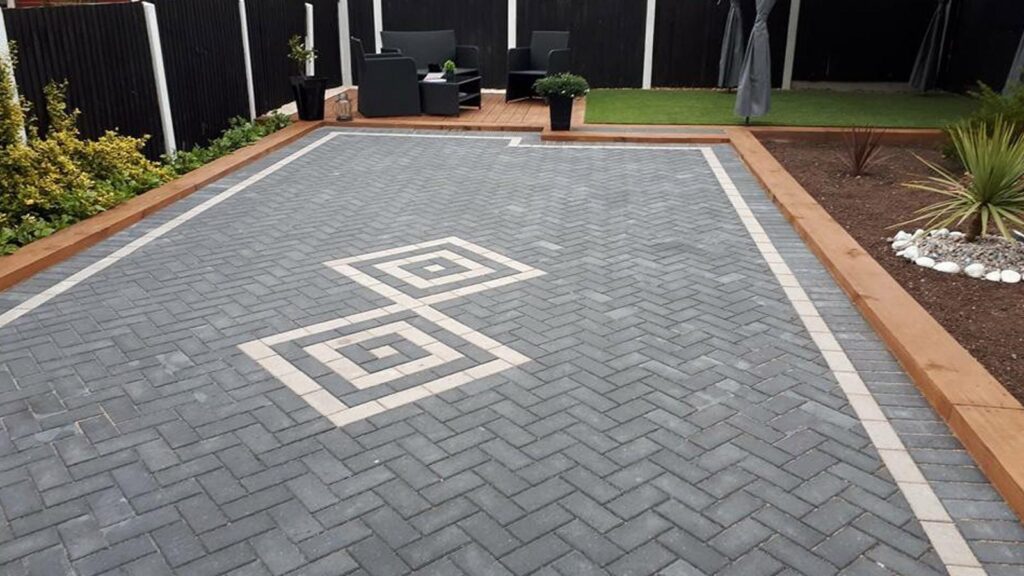 We only use bitumen C67BC or KE93P which is applied hot to the surface. We do not use cut back binders or lower bitumen content binders. All of the surface dressing that is undertaken by Driveline Surfacing Ltd, is compliant with the latest road note 39.
Your Content Goes Here

Expands the life span of a old surface

Prevents further deterioration

Cost effective for large areas

Long lasting

Proven surfacing method all over the world

Can be applied directly on top of an old surface such as tarmac, concrete, road planings and hardcore.

Improves surface appearance

Fast installation

Minimal disruption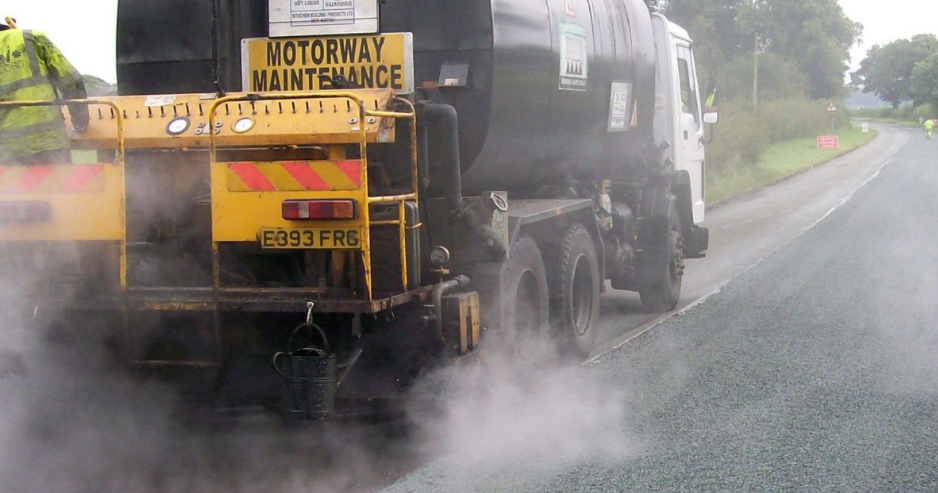 About us – Our outstanding reputation comes from our workmanship and commitment to keeping our machinery and plant up to date through reinvestment. With focus on delivering the highest quality surfacing to every customer, regardless of their sector, we will tailor our surfacing solutions to meet your specific needs.
What we do – From Tarmac to brick weave, we have a range of surfacing methods to suit your needs, wants, and budget.
Free on site advice and quotations

In house staff and surveyors

Large range of company owned machinery


Get a quote
Get a free no obligation quote
Whether you are looking for new driveway, patio, path or surfacing for a large open space in the Suffolk area then Driveline Surfacing Ltd has the right solution for you. Get in touch today for your free no obligation quote and consultation.
Get a quote