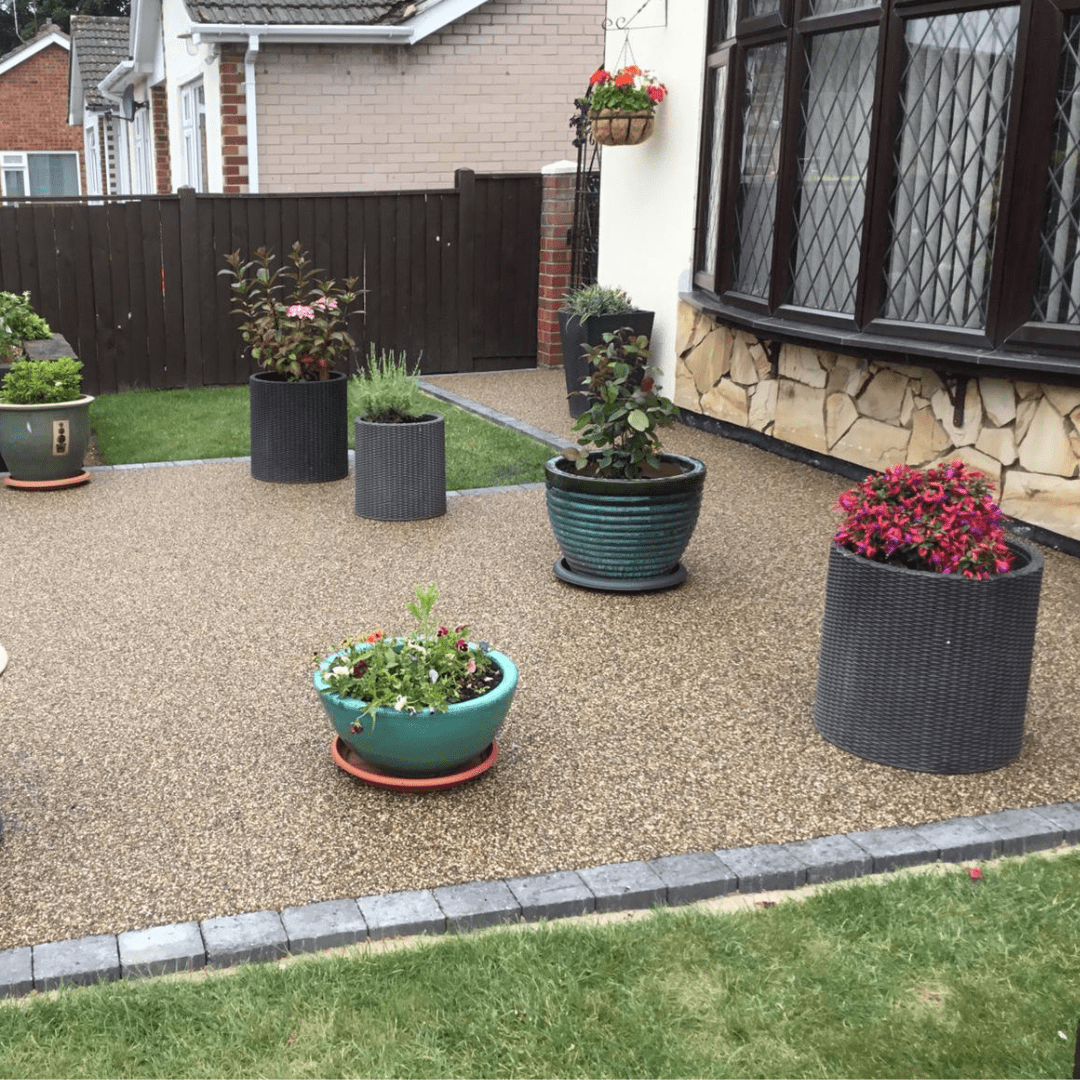 Resin Bound FAQs
What is a resin-bound surface?
A resin-bound surface is a mixture of stone aggregate and resin that is used to pave patios, footpaths and driveways. Resin-bound is also known as "stone carpet" as it provides a durable and seamless finish.
Are resin-bound driveways any good?
Resin-bound driveways are excellent as it is a permeable and robust surface that is resistant to cracking and doesn't require much maintenance. It is suitable for driveways and other light traffic areas due to its gravel-like texture meaning it is slip resistant.
How do you install a resin-bound driveway?
Our resin-bound installations follow a simple 5-step process including, surveying, excavating, edging, foundations, and installation.
Do you need planning permission for a resin driveway?
Planning permission is not required for resin-bound driveways and surfaces. It is eco-friendly and has a permeable surface allowing rainwater to drain away making it SUDS-compliant.
How long do resin driveways take to lay?
Resin driveways will take a matter of hours to be laid once the area has been prepared, and then will take around 24-48 hours to fully dry depending on the temperature and weather conditions. However, it may be suitable for pedestrian usage after 8 hours.
What colours do resin driveways come in?
How long do resin driveways last?
Resin-bound driveways and other surfaces can last up to 25 years if they are well maintained. This may also differ depending on the level of traffic the surface receives.
Is a resin driveway cheaper than tarmac?
Resin and tarmac are roughly the same in terms of cost, however, the resin can usually be installed directly onto many solid surfaces which saves money on groundwork. 
Is resin bound cheaper than paving?
Resin surfaces are generally cheaper than block paving both in terms of initial installation costs and long-term maintenance. There are arguably lower maintenance costs associated with resin as they are crack-resistant and weed-free. 
Can you lay resin on soil?
Resin surfaces can not be laid on soil or grass as they will not provide suitable stability for the resin alone. It will need to be laid on a compacted granular sub-base as a minimum. 
Can resin be laid on concrete or tarmac?
Yes, the resin can easily be laid over most existing concrete or tarmac surfaces as long as they are stable, regardless of if they are permeable or not. 
Can you jet wash resin driveways?
You can absolutely jet wash or power wash resin driveways and other surfaces. It is advised that you wash your resin surfaces at least twice a year to keep them clean of debris and deter any build-up of moss or algae. 
Learn More About Resin-bound Surfaces
To make the most of your space, either domestic or commercial, you can contact us to find out more about upgrading your surfaces including driveways and car parking spaces. Our specialists at Driveline Surfacing Ltd are available to provide you with a free survey and no-obligation quote.