Quality Driveways Norfolk
At Driveline Surfacing Ltd, we can install a range of different surfaces for patios, driveways and outdoor areas in Norfolk. Whether you are after the natural looking appearance of tar and chip or a low maintenance resin-bound surface then we can install you a durable and long lasting surface.
Each project we undertake is unique. The range of different aggregate colours and sizes we offer are chosen by you for your project and can even be arranged as designs. We also offer a range of different edging and kerbs, so that you can create a personalised surface that suits your property, personality and any existing surfaces.
In order to create a high quality driveway surface, we know the secret to a high quality driveway is due to what's beneath the surface. At Driveline Surfacing Ltd we make sure that your surface has effective drainage, firm foundations and access to all utility conduits and manholes.
For any questions please don't hesitate to contact us, and we will happily answer questions and advise you on the perfect solution for your property in Norfolk.

Driveway Surfacing Options Available in Norfolk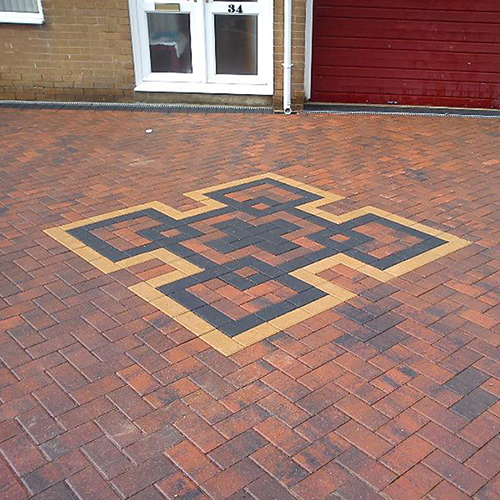 Block Paving
Block paving is a great solution for garden paths, patios, driveways and parking areas. Brickweave (block paving) can be customised as we offer a wide range of colours, sizes and finishes. We install block paving on a firm base, and insert a drainage system at the same time, if required. Every stage of the project is carried out by us, including the groundworks to ensure an efficient installation.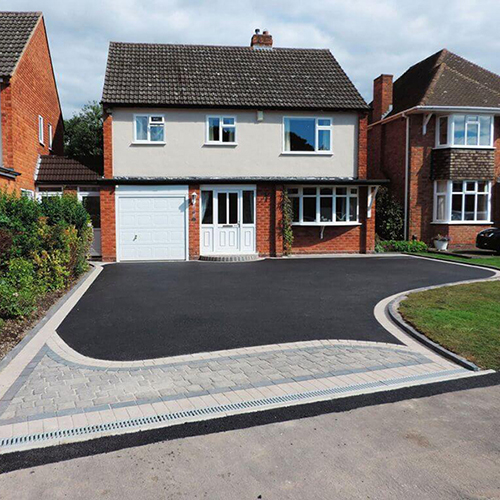 Tarmac
A commonly used surface for large areas. It is a very cost effective and durable surface and can also be used on residential properties. We carry out all tarmac installations using SMA materials which combine high quality aggregates with bitumen and cellulose fibres, which offers maximum protection against weather and wear and tear. We can also add character to your tarmac by using a variety of edging blocks and kerbs.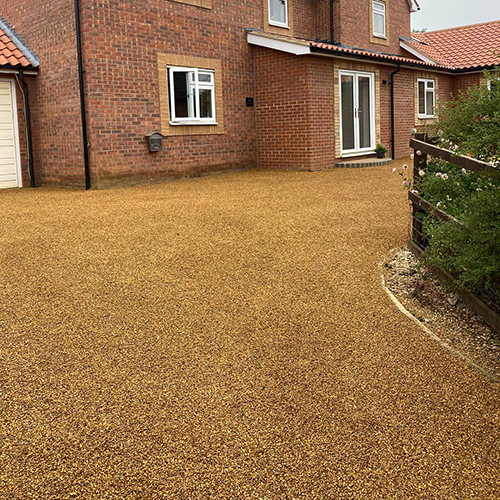 Tar and Chip
Tar and Chip provides an effective, low maintenance yet durable surface solution for driveways and roadways. Tar and chip is formed using a hot bitumen and a 6-10mm aggregate either in golden or grey. This surface is ideal for large areas and roadways.
Resin Bound
Resin bound surfaces are a great solution due to their low maintenance. They do not require any drainage as the surface is porous, and can be maintained with an annual powerwash. Due to the structure there is also little weed growth and they are UV resistant, meaning your surface will not fade over time. Resin bound surfaces can be made bespoke as we have over 40 different natural aggregates that you can choose from, there is something to suit every property and taste.
About us – We are an East Anglia based company where our workmanship and customer referrals and constant reinvesting in up to date plant and machinery has gained us a great reputation in the surfacing industry. We have a wide customer base from private home owners, local building developers to customers in the agriculture industry.
What we do – We offer a wide range of surfacing methods to meet your needs specialising in tar and chip, resin bound surfacing, hand lay and machine lay tarmacadam and block paving.
5 star Trust a Trader Rating

local Norfolk based company
Get a quote
Get a free no obligation quote
Whether you are looking for new driveway, patio, path or surfacing for a large open space in
At Driveline Surfacing Ltd, we are a leading installer of Tar and Chip, Tarmac, Resin Bound and Block Paving solutions in Norfolk. Our team has years of industry knowledge and experience and will find the perfect surface for your new patio, path or driveway.
, Driveline Surfacing Ltd has the right solution for you. Get in touch today for your free no obligation quote and consultation.
Get a quote