Driveline Surfacing Ltd is a top installer of Tar and Chip, Tarmac, Resin Bound and Block Paving solution in Kings Lynn, Norfolk. Our team has many years of experience and industry knowledge to provide you with a high quality surface.
Driveway Solutions In Kings Lynn, Norfolk
At Driveline Surfacing Ltd, we know that the secret to a long lasting, high quality driveway lies beneath the surface. We don't cut corners and will ensure that every surface we install has firm foundations, effective drainage and access to manholes and utility conduits.
Each project is unique. The variety of styles of aggregate and installation means that there are infinite design possibilities, something to suit every preference and property. We can also incorporate patterns into the surface, creating not only a safe surface but something that has character and is aesthetically pleasing.
As one of the leading driveway specialists in Norfolk, we were one of the first contractors to install resin bound surfaces. We have constructed many driveways in and around Kings Lynn, and will bring a wealth of experience and knowledge to any project.
If you are unsure about what type of surface you are after for your new driveway, patio, path or surface, then we can advise you of the best solution.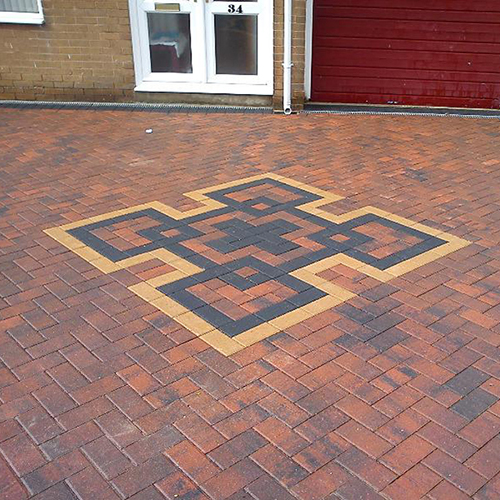 Block Paving
Block paving is more commonly known as brick weave surfacing. It's a unique way of surfacing as it presents the opportunity to create an individual surface that's visually appealing. There is a wide variety of block sizes, colour and finish from which you can choose. Block paving surfaces are built on firm foundations, allowing it to bear significant weight over many years. It creates a safe, ergonomic and aesthetically pleasing surface that can be customised. Due to their installation and materials, block paving surfaces are not permeable, meaning that they do have to be installed with a drainage system, we can do this for you.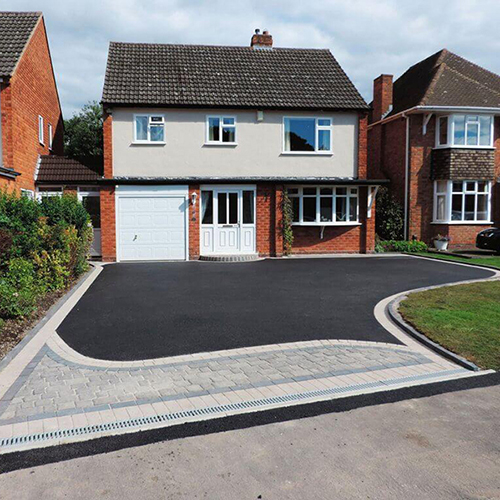 Tarmac
Tarmac is a traditional surface that is used primarily to cover large areas such as car parks, large driveways although can be used on smaller residential properties. We only use SMA tarmac to ensure that your surface has a maximum life span and protection from weather and wear and tear. To personalise the look of an asphalt surface, you can add a variety of edging blocks and kerbs to add character to your new surface.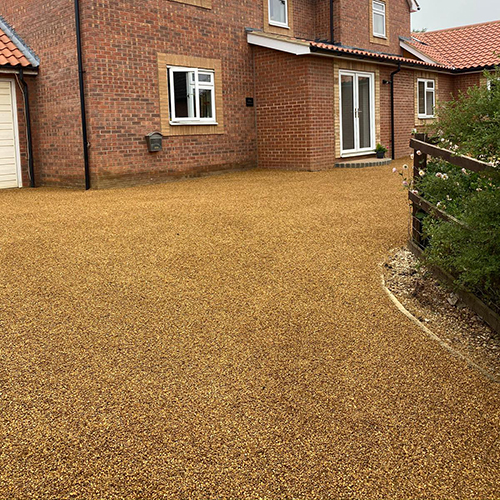 Tar and Chip
Tar and chip surfaces are created when bitumen is combined with aggregate. They provide a natural looking driveway, which is a more durable and safer option than loose stone. As tar and chip surfaces are not permeable, they do require a drainage system to be installed which we can complete for you. Tar and chip surfaces require very little maintenance so are a perfect solution for those who have little time for exterior cleaning.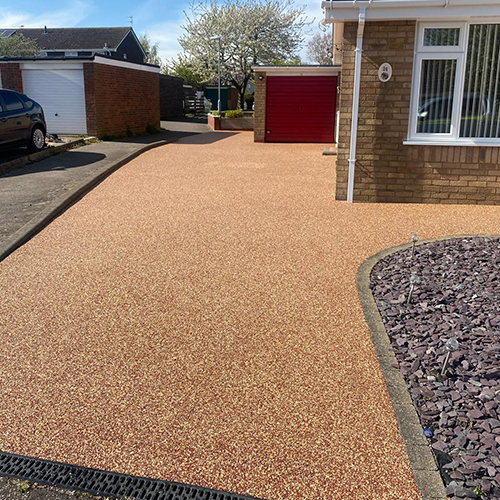 Resin Bound
Resin bound driveways are becoming increasingly popular due to their low maintenance and drainage. Due to their structure, resin bound surfaces are porous allowing for surface water to drain away. This means that you do not need to install a drainage system, making the process much faster. There are over 40 different aggregates that you can choose from, meaning there are bespoke options to complement every home and taste. The resin is UV resistant meaning that the colour of our driveway will not fade overtime.
Get a quote
Get a free no obligation quote
Whether you are looking for new driveway, patio, path or surfacing for a large open space in the Norfolk area then Driveline Surfacing Ltd has the right solution for you. Get in touch today for your free no obligation quote and consultation.
Get a quote