Installing or upgrading your driveway is an easy way to improve the value of your home as it is both practical and gives your property an instant boost in kerb appeal.  Although replacing or installing a driveway is an expense it's perhaps one of the most useful things you can do to increase the value of your home. Here we have a few easy and cost-effective ways to improve your home simply by upgrading the driveway.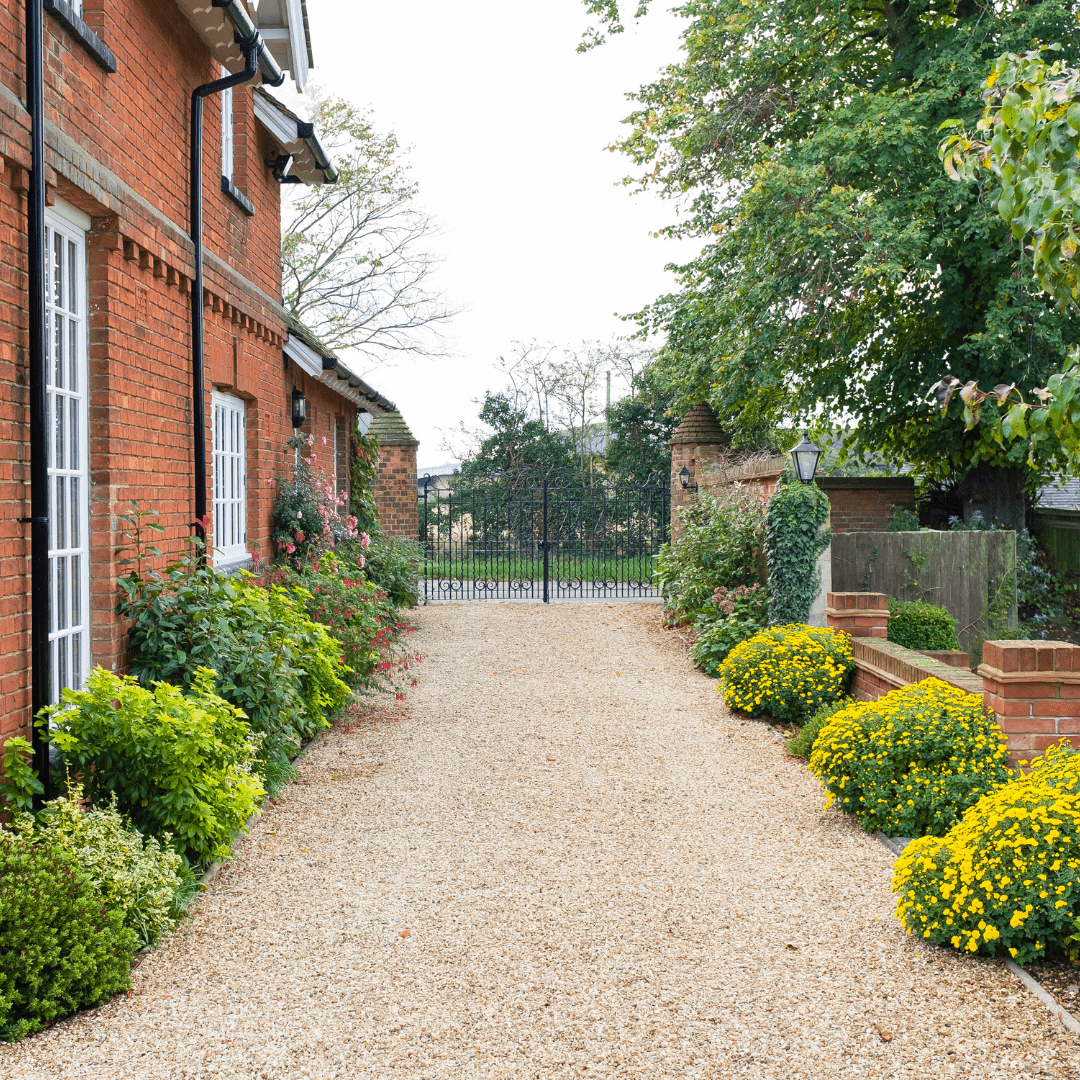 Gravel can be a great DIY option if you are willing to put the work in yourself. Gravel has significantly lower costs compared to other driveway options but will require more maintenance in the long term. 
To install a gravel driveway you will need to dig down a few inches and install a weed barrier to prevent weeds from growing through. After this, simply add a couple of layers of stones and a gravel layer on top. This provides a good drainage system along with a stable surface for your vehicle. 
Other than the gravel and stone, it won't cost you much more than this but you may need to top up the gravel in time as it sinks into the earth or some gets lost. In terms of maintenance, it will need to be raked occasionally to level out the surface.
Tarmac (sometimes called asphalt), is a low-cost and popular choice when it comes to improving driveways. There are two options when it comes to installing a tarmac surface. You can either remove the existing driveway and then install a new sub-base and tarmac surface – or opt for a resurface where the tarmac is poured over an existing driveway. 
The benefit of installing a new tarmac surface is that it will be more durable, whereas a resurface may be more susceptible to wear and tear. Although a resurface is the cheaper option of the two, it may be advantageous to install a new surface as this will last longer and be more cost-effective in the long run.
Another fairly inexpensive option is Tar & Chip (also known as Tar & Stone). This involves installing a gravel base which is then covered with hot liquid asphalt. This is followed by your choice of loose aggregate and compacted to ensure proper embedment. 
This type of surface is customisable with a choice of colours to create a style that suits you and is hard-wearing and anti-slip – Driveline Surfacing Ltd provides a 5-year guarantee as standard with all Tar & Chip surfaces.
Resin Bound surfaces are becoming increasingly popular thanks to their hard-wearing and anti-slip surface. These resin bound surfaces are suitable for most spaces including driveways and car parks as they are porous and extremely low maintenance with an added bonus of being UV resistant. You can expect these types of driveways to last up to 30 years, meaning they are an extremely cost-effective option.
There are other options such as using natural earth mixed with aggregate which creates a natural and rustic feel. These areas are usually raised to encourage water to run off the sides but will require maintenance on a regular basis. 
Block Paving (Or Brick-Weave) is also an option as it provides a strong base for your driveway and will last many years. Driveline Surfacing provides a 10-year guarantee as standard with all block paving installations, and any repairs can be made with little fuss, as you can replace just one brick if needed.
Learn more about cost-effective driveways
If you're looking for a new driveway but don't wish to break the bank, get in touch with our experts here at Driveline Surfacing who will be able to assist you in choosing the right materials for you – and provide you with a free no-obligation quote.