If you're looking to renovate your driveway, paths or patio you might be considering the differences between Block Paving and Tarmac (sometimes referred to as asphalt). There are a number of different factors to consider when installing a new surface, so here we will weigh up the benefits of block paving vs Tarmac to help you make an informed choice.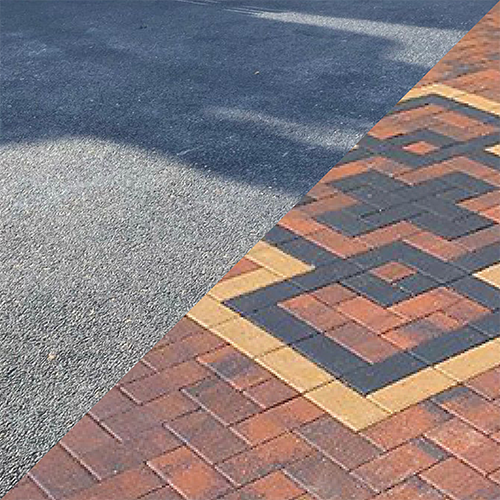 Visually Striking
Our block paving bricks create a high visual impact on any driveway, path or patio. With a variety of colours and choices, this option can add instant kerb appeal to your property. While some opt for a simple herringbone layout throughout, it is possible to create beautiful patterns and shapes on your surface by using contrasting coloured bricks.
Durable & Easily Repaired
Block paving is a strong and durable surface with a good drainage system. One of the upsides to this type of surface is that it can easily be repaired. For example, if a brick was to crack, it is quick and easy to replace a singular brick without the need to disturb the rest of the surface. This is why we offer a 10-year guarantee with all of our block paving surfaces.
Increases the Value of Your House
First impressions are everything! A driveway is often the first thing people will see when they arrive at a property. Block paving is known to elevate the overall appearance of a house, which is why installing this type of surface is an easy and effective way to add value to your property if you ever consider selling up.
Quick to Install
Unlike block paving which uses many individual paving slabs, tarmac consists of one simple layer. Thanks to this, laying a tarmac driveway may be completed in one or two days. Just remember, there will also be groundwork to be completed before laying any tarmac as the area may have to be excavated before any works take place.
Smooth & Simple Finish
Tarmac driveway creates a smooth finish compared to other surfaces such as paving slabs or tar & chip. This may be ideal for anyone with mobility issues or simply anyone looking for a "no fuss" surface.
Durable & Low Maintenance
Tarmac is known for being highly durable with a long lifespan. Road surfaces are made to be hard-wearing by design as they are subject to heavy and repeated traffic use. If however, the tarmac surface needs to be repaired, it can be done quickly and without too much trouble via a process called "tarmacadam". This is why our tarmac surfaces come with a 10-year guarantee.
Other Notable Benefits
As well as being hard-wearing and quick to install, tarmac is known for being a cost-efficient solution for many surfaces including Driveways, Paths, Roads and Open Spaces such as car parks. Alongside this, the material boasts increased skid resistance and is environmentally friendly.
If you're undecided about which surface is right for you, you can always opt for a partial tarmac area with some block paving decoration! If you're still not sure, you can get in touch with our experts at Driveline Surfacing Ltd who will be able to provide you with an assessment and free no obligation quote.