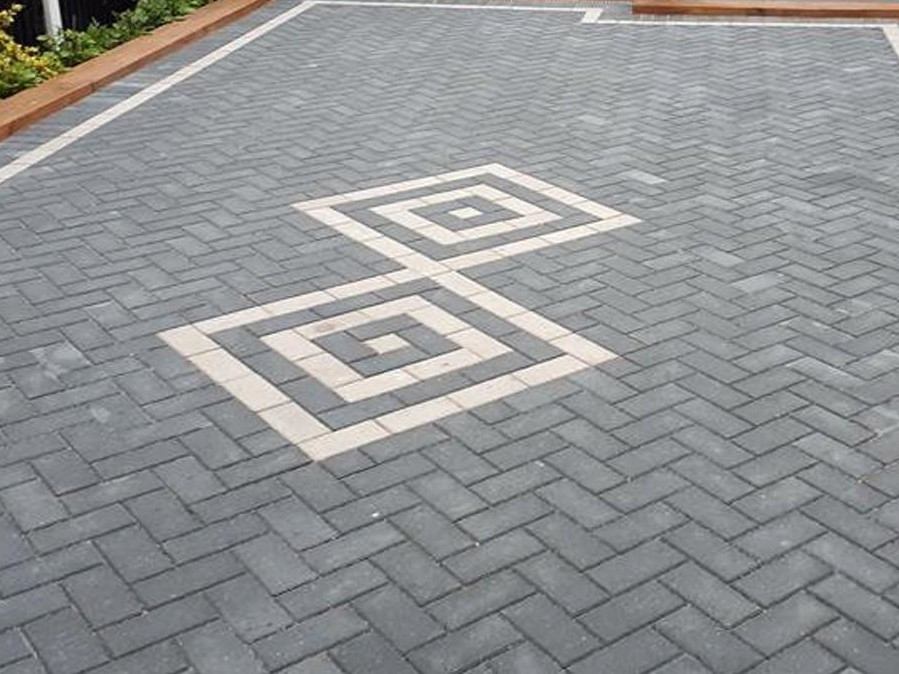 Block paving sits in a class of its own. Of course, in most ways, this surface is like any other. It's built on firm foundations, so it can bear a lot of weight over many years; it has a level surface, making it safe, ergonomic, and aesthetically pleasing; and it incorporates a drainage system.
But block paving (aka brickweave) is special because it presents an opportunity to create something not only beautiful but also totally unique.
Nothing matches block paving when it comes to individuality and artistic scope.
Planning
The project begins with a brief from you. What's your vision? What does your ideal driveway look like? If you're undecided – or uncertain about anything – we'll answer your questions and offer advice.
Next, we'll conduct a free site survey. This is the time to take measurements, mark out the area, evaluate drainage options, and carry out a risk assessment. If your choice of blocks is not yet confirmed, we'll discuss the options in terms of size, colour, and finish. Being on site can make this decision easier.
A vital part of the site survey is checking for utility pipes and conduits. If gas, electricity, or water are routed through the site, we need to be aware of this in order to avoid causing any damage or disruption. We might also need to provide access.
We'll take into consideration any manholes on the site. If there are existing manhole covers, we'll replace them with recessed covers, which will blend in with the rest of the driveway surface. More on that later.
Foundations
Every stage of the project is carried out by us, including the groundwork. The site is dug to the correct depth, and we put in our sub-base – usually recycled crushed concrete or MOT Type 1 hard core. The sub-base is tightly compacted to create strong, reliable foundations that will support the block-paving surface for many years.
If there's to be a kerb or decorative edging to the driveway, we'll lay a solid concrete base for the edging blocks. We advise incorporating some kind of edging, as it acts as a retainer and helps to keep the block paving securely in position.
The Block Paving
When it comes to choosing your pavers, there are so many variations in size, colour, and finish.
With block paving, it's not just a case of choosing your materials. There's also a design to plan. From repeated patterns to elaborate mosaics, to simple images, names, or dates … the possibilities are endless.
Even the simplest of designs will benefit from a kerb or edging. In addition to acting as a structural retainer, an edging will give integrity to the block pattern, like a frame around a picture.
When all the blocks are laid, kiln-dried sand is swept over the entire surface. The blocks and the sand must be bone dry in order for the sand to slip right into the gaps between the paving stones. This fine sand provides stability to the blocks, preventing them from moving around.
As we mentioned before, any manhole covers will be recessed. Recess manhole covers are specially designed to contain a portion of the surrounding surface, so the manhole cover blends into the aesthetics of the driveway. A continuation of the block-paving design is laid onto a layer of cement inside the container part of the manhole cover, and when the cover is replaced, the paving pattern appears unbroken.
Finally, the surface is compacted.
Drainage
Block paving is not a permeable surface. Neither the pavers nor the sand will allow water to pass through. This means that a block-paving surface does not come under permitted development, and, for compliance with Building Regulations, a drainage system must be provided.
We use linear drains, made of stainless steel. These drains are hard-wearing, crack resistant, and anti-rust. Their life-span will match the longevity of the driveway surface itself.
Contact Driveline Surfacing Ltd
Areas Covered
Latest Posts
Resin-bound surfaces have become a very popular choice for driveways, patios, pathways and other [...]
Tar and chip is becoming an increasingly popular surface option in the UK thanks [...]
Installing or upgrading your driveway is an easy way to improve the value of [...]