Tarmac is a surfacing solution that has been used commercially for over one hundred years.  Not only is tarmac reasonably priced, but it is durable with a long lifespan making it ideal for largescale surfacing projects such as highways, runways and car parks.  You may be wondering why, if this is primarily a material used for commercial projects, more and more residential customers are opting for a tarmac driveway?  The answer is very simple – tarmac is cost-effective, durable and long-lasting and these are key considerations for any customer, homeowners included. 
When it comes to residential projects, SMA is the material of choice.  SMA combines high quality aggregates with bitumen and cellulose fibres to offer maximum protection against signs of wear and tear.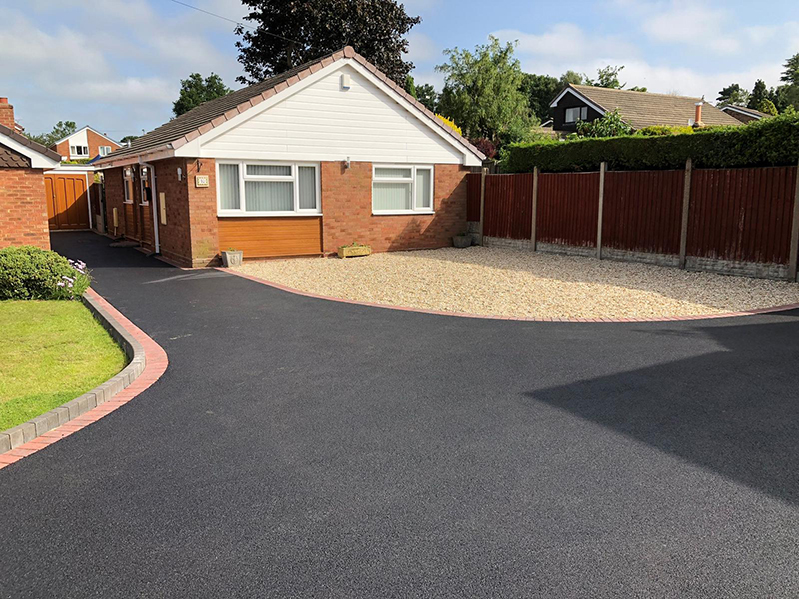 Kerb appeal
We have determined that cost, durability and lifespan are important factors for consideration when choosing a new surface, but there is a fourth that is often ranked highest on an individual's list of desirable features.  What is it?  Kerb appeal!  A solid black surface may be considered less aesthetically pleasing than resin bound surfacing or block paving, but a tarmac driveway can really set off a property when edging is installed.  By using edging blocks, kerbs or alpha setts, your driveway will not only look unique, but it will ooze kerb appeal!
Installation and maintenance
So, you would like to go ahead with a tarmac driveway, but who should you appoint to carry out the work?  Sourcing a reputable company for the installation of your tarmac driveway is extremely important.  If you try to cut costs by using a contractor with poor knowledge and experience, you will encounter ongoing problems that will often result in the work recommencing from scratch.  A reputable trader will have a long history of customer satisfaction with reviews to back up any such claim and will offer a guarantee.  The team at Driveline Surfacing Ltd are so confident in their workmanship that all tarmac surfaces comes with a 10-year guarantee.  Once installed, your driveway will require very little ongoing maintenance and will look great for many years to come!
Areas Covered
Latest Posts
Resin-bound surfaces have become a very popular choice for driveways, patios, pathways and other [...]
Tar and chip is becoming an increasingly popular surface option in the UK thanks [...]
Installing or upgrading your driveway is an easy way to improve the value of [...]